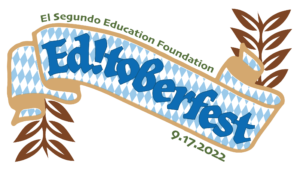 Join us for the El Segundo Education Foundation's 2nd Annual "Ed!toberfest" event on September 17th from 6 – 10pm at Chevron Park in El Segundo. This Oktoberfest-inspired event will feature beer tastings, contests, games, live auction items, an opportunity raffle, and music in a festive, casual, grown-ups-only, outdoor setting. Come dressed for Oktoberfest or for a casual Saturday evening.
This community fundraiser benefits the Ed! Foundation's mission to fund and support programs in the El Segundo Unified School District. Since its inception in 1983, Ed! has raised over $20 million to ensure Every Student Wins. 100% of your ticket and raffle sales will help fund the 2022-2023 $1,800,000 grant to the El Segundo Unified School District. Your participation enables Ed! to continue its essential mission of bridging the financial gap so the El Segundo Unified School District can continue its award-winning curriculum and innovative programs.
Let's raise our steins and our hands in support of our schools. Prost!